CONSULTATIONS
KCC Bus Funding Reduction Consultation
Please have a look at this consultation and respond . If this goes ahead Detling will no longer have a bus service.
KCC Bus Funding Reduction Consultation
We are proposing to make savings by reducing the money we spend on providing some bus services that private bus companies cannot afford to run, and which are no longer cost effective. We are carrying out this consultation to listen to your feedback.
KCC currently spends about £6m per year to contract services which are not profitable for bus companies but which the Council thinks are important. These are often the services running in more rural areas, in the evenings and at weekends and includes our Kent Karrier (Dial-a-Ride) services.
We have worked hard to protect this funding, but the financial pressures placed on KCC's budget mean that the Council faces an intensely challenging period ahead, where tough decisions will need to be taken. The impact of this does unfortunately mean that the Council is having to consider savings across a whole range of services.
To meet the financial challenge being posed by this year's budget, KCC's Public Transport team has been asked to reduce planned spending on this funding by £2.2m. To achieve this reduction, we would need to end 48 contracts with a total value of £3m which would affect around 55 supported bus services from Summer 2022.
The consultation document provides more information and details on the proposed changes to services. Timetables for the journeys that are affected, and a full list of all subsidised services are also available from the Consultation documents section on this page.
Have your say
Before any decisions are made, we want to hear your views on:
how the proposed bus service withdrawals could impact you
the assumptions we have made in the draft Equality Impact Assessment (EqIA)
any additional information that you think we need to consider about our approach and the proposals identified in the consultation document.
Please let us know your views by completing the questionnaire below.
Alternatively, complete the Word questionnaire starting on page 16 of the consultation document and return by email or by post for free.
The responses to the consultation will be analysed and presented in a consultation report. This report will be published and presented, along with an updated EqIA, to KCC Members of the Environment and Transport Cabinet Committee in May. Following the meeting, we will publish the decision on this page.
Any changes to bus routes resulting from decisions made by Council Members would most likely take effect in Summer 2022.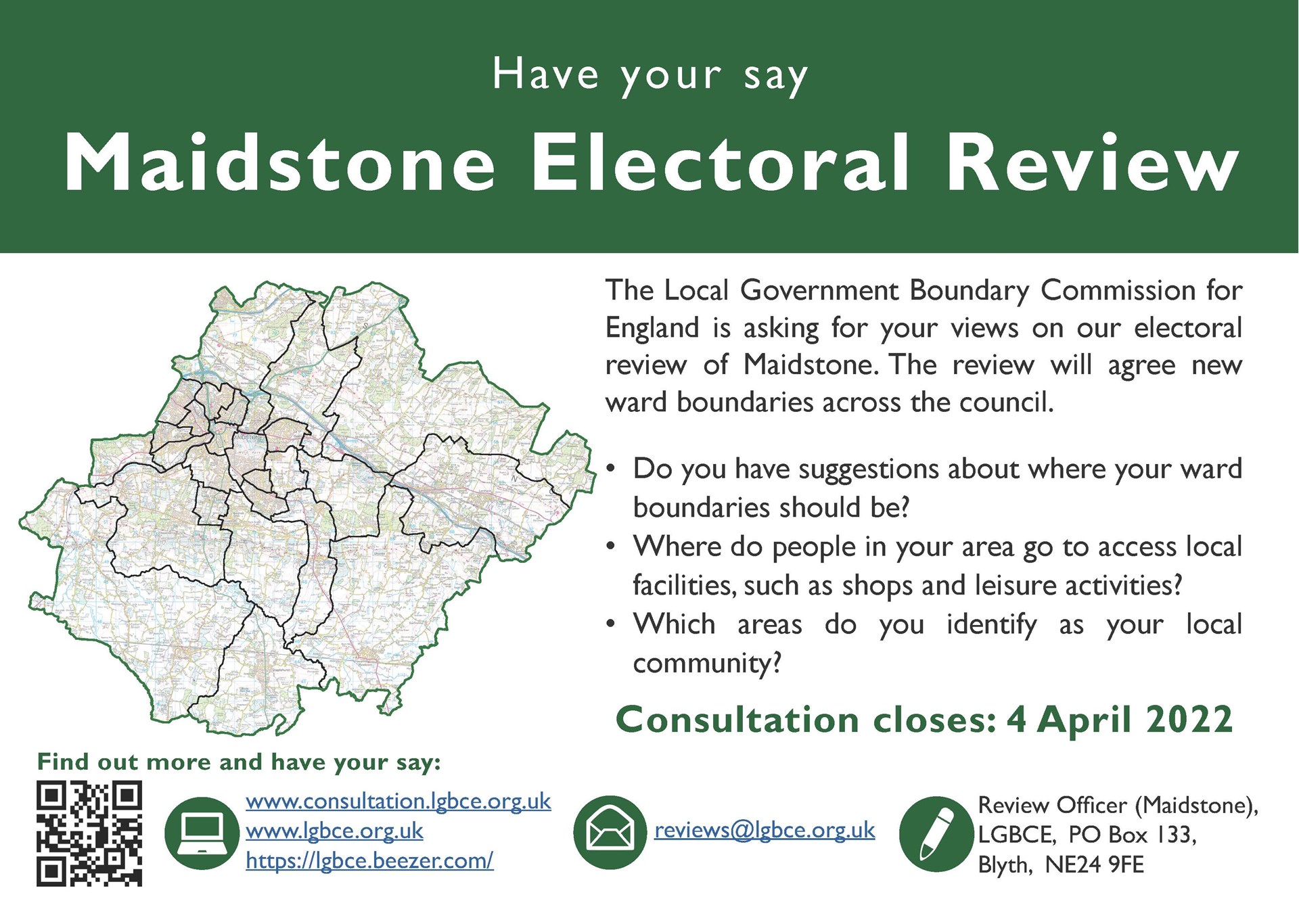 The Local Government Boundary Commission for England advises :
Have your say on warding arrangements for Maidstone Borough Council before 4 April 2022.
After we have considered all representations made to us during this consultation, we intend to publish draft recommendations in July 2022.
We will then hold a further period of consultation on our draft recommendations. Our final recommendations are expected to be published in November 2022.
The new electoral arrangements will come into effect at the local elections in May 2024.
We are minded to recommend that 48 councillors should serve the council in future. This is seven fewer than the current number of councillors.
Push the boundaries before:
4 April 2022
Get in touch
We welcome comments on division arrangements by 4 April 2022. Representations should be made:
- Through our interactive consultation portal, where you can explore the maps of the recommendations, draw your own boundaries and make comments;
- Or in writing to Review Officer (Maidstone),
LGBCE, PO Box 133, Blyth, NE24 9FE.